','' ); } ?>
Top 9 Benefits Of Fenugreek Seeds For Hair Growth + Use
We are constantly striving for healthy, strong, and lustrous hair. But what if we told you that fenugreek is a magical herb with lots of benefits for hair growth that can help you accomplish all of this?
Since ancient times, fenugreek has been used as a home remedy to treat everything from promoting hair growth to premature greying.
Although there is some evidence that fenugreek can help prevent hair loss, experts still determine if it promotes hair growth.
In this article, let's examine how fenugreek seeds or powder benefits your hair and the best ways to use it.
What is Fenugreek?
Fenugreek is an herb, also known as methi (India). It is a short-lived plant from the Fabaceae family commonly used in various parts of the world for cooking and traditional medicine. Fenugreek is known as one of the oldest medicinal plants. Fenugreek tiny, golden-brown seeds have a strong aroma and are somewhat bitter in taste.
Fenugreek has been used medicinally for various conditions, including improving women's health. The beneficial properties of fenugreek seeds have attracted wide attention in the recent past due to their therapeutic potential, such as antidiabetic, antihyperlipidemic, antiobesity, anticancer, anti-inflammatory, antioxidant, antifungal, antibacterial, galactagogue, and for various other pharmacological effects.
The phytochemical analysis also presents steroids, alkaloids, saponins, polyphenols, flavonoids, lipids, carbohydrates, amino acids, and hydrocarbons.
The plant seeds are rich in various nutrients, including protein, fiber, and a range of vitamins and minerals. According to some research, fenugreek may be beneficial to hair growth. One study discovered that using fenugreek seed oil topically increased hair growth in people with alopecia (hair loss)
Does Fenugreek Seed Promote For Hair Growth?
Fenugreek seeds, high in folic acid, Vitamin A, Vitamin K, and Vitamin C, have long been used as herbal supplements and DIY hair treatments. They are also high in minerals such as potassium, calcium, and iron, making them an excellent at-home hair loss treatment. They also have high levels of lecithin, which is hydrating and can help stimulate hair follicles for quicker growth.
The positive effects of fenugreek on hair growth are known. It is discussed that fenugreek interacts physiologically by stimulating blood circulation to hair follicles. DHT (dihydrotestosterone) metabolism is expected to be influenced by steroid saponins. One cause of male and female pattern hair loss is thought to be the effects of DHT on genetically predisposed hair follicles.
Fenugreek seeds have numerous benefits for hair growth.
What Are The Benefits of Fenugreek And How To Uses Of Fenugreek Seeds To Promote Hair Growth?
1. Fenugreek Hair Oil For Hair Growth:
To get more benefits for hair growth: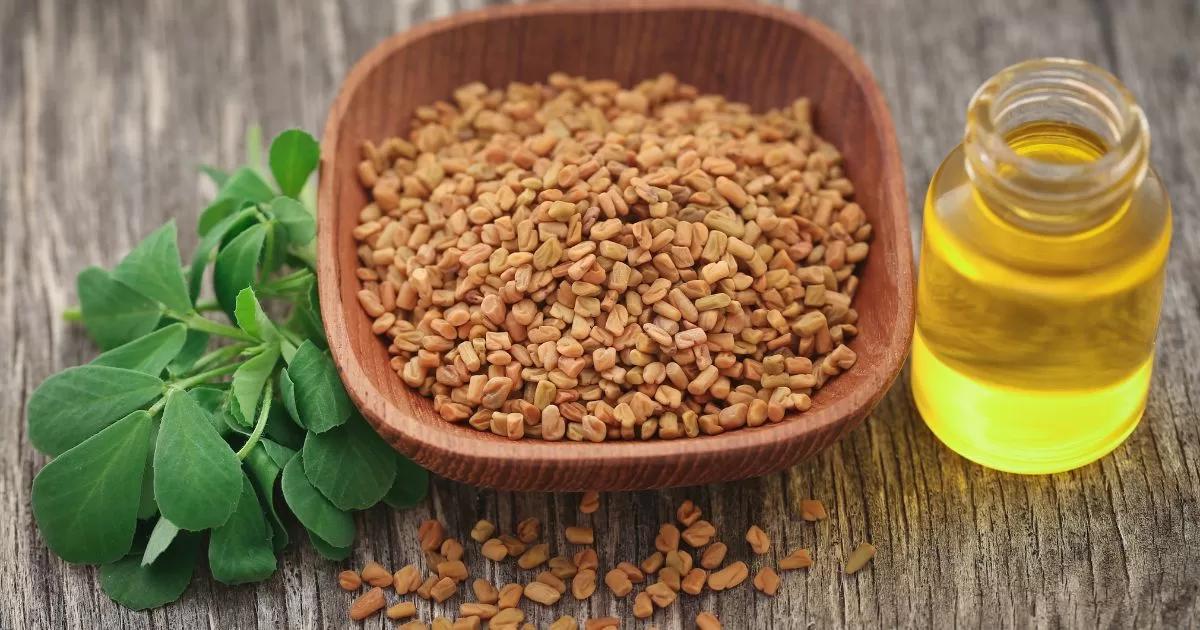 Infuse your favorite oil. You should add a spoonful of fenugreek seeds or powder to a cup of (any) coconut or sesame oil.

Heat the oil over low heat using the double boiler method until the seeds begin to brown.

Allow the oil to cool before storing it in a glass jar.

Massage your scalp and hair with the oil twice or three times a week, one hour before washing your hair. 
2. Fenugreek Seeds Hair Mask To Prevent Hair Fall:
Fenugreek contains lecithin, a natural emollient that deeply nourishes and hydrates your scalp and hair. It also strengthens your hair from the roots by delivering healthy nutrients. As a result, it effectively controls hair shedding.
Here is how you can make an easy DIY mask at home for hair fall:
First, soak two tablespoons of fenugreek seeds in water and leave the mixture overnight in a cool place.

Using the same water, grind the seeds into a paste that will be slimy and sticky (this slippery substance is known to impart shine to your hair).
Apply it to your hair's roots and let it sit for 20 minutes.

Massage your scalp before washing your hair with a gentle shampoo.
Repeat the process at least twice each week for the most outstanding results.
 3. Fenugreek Hair Mask For Fighting Dandruff :
Fenugreek's natural saponins have potent antifungal and antibacterial qualities that help to prevent microbial infections on your scalp. 
By managing the infection-causing bacteria and yeast on your scalp, fenugreek helps to treat dandruff and itching.
Here is how you can make an easy DIY mask at home for fighting dandruff:
Take three tablespoons of fenugreek seeds and soak them in water; leave overnight.

Next morning, be careful to ground them until you thoroughly get a paste-like consistency.

Add one tbsp of freshly squeezed lemon juice and a tablespoon of yogurt to the paste and mix it well.

Apply this paste to the scalp and ends of your hair using your hands.

Let it take 30- 40 minutes to sit on your hair.

With the help of a mild shampoo, rinse your hair.
Repeat this process once a week or twice a month. This mask will improve the condition of your scalp, reducing dandruff and hair loss in the process.
4. Fenugreek Hair Mask To Rejuvenate Damaged Hair: 
Fenugreek is high in protein and amino acids, which aid in healing hair shafts damaged by dryness, heat styling, chemicals, UV damage, or color treatments. It promotes thicker hair growth by increasing cuticle integration in your hair shaft.
To prepare a pack for hair growth,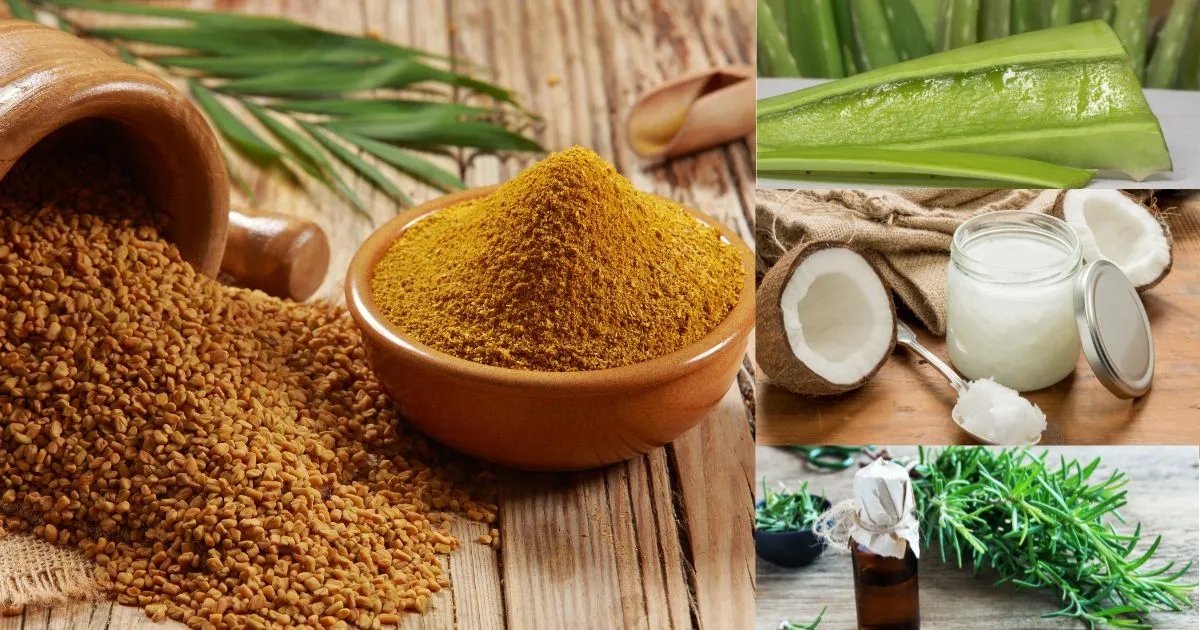 Soaked 3-4 tablespoons of fenugreek seeds overnight 

Next day, blend soaked fenugreek seeds with one tablespoon of aloe vera gel, one tablespoon of coconut oil, and a few drops of rosemary oil. 

Apply this to your scalp, and allow it to sit for 30-40 minutes before washing it off with mild shampoo. 

Repeat this process at least once a week for better results.
5. Fenugreek Helps To Add Shine And Soft Texture:
Fenugreek has mucilaginous fiber, which absorbs a lot of moisture. Thus, fenugreek helps maintain the moisture in your hair strands, enhancing shine and giving a softer texture.
To prepare a pack to add shine and soft texture,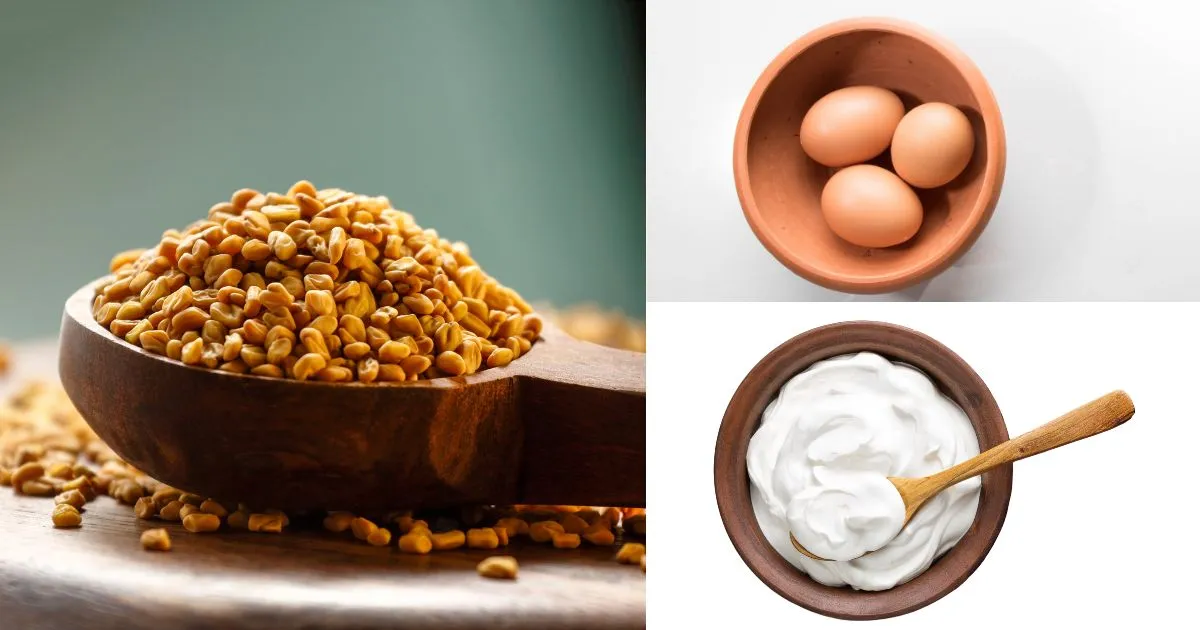 Soak 3-4 tablespoons of fenugreek powder and leave it overnight.

Next morning, blend the soaked fenugreek seeds with a tablespoon of yogurt and egg. 

Make a fine paste and apply it to the hair and scalp.

Let it sit for 30 to 40 minutes, and rinse it with a mild shampoo.
Try to do this once a week.
6. Fenugreek Seeds Prevent Premature Hair Greying:
Fenugreek's high iron and potassium content aids in the effective treatment of premature greying. '' 
Premature greying of hair is a widespread issue among today's kids. Fenugreek seeds are high in iron and potassium, which helps prevent premature hair greying. Fenugreek balances the mineral deficiency essential for adequate melanin formation in your hair follicles, resulting in naturally dark hair. 
To prepare a pack for the prevention of early greying hair,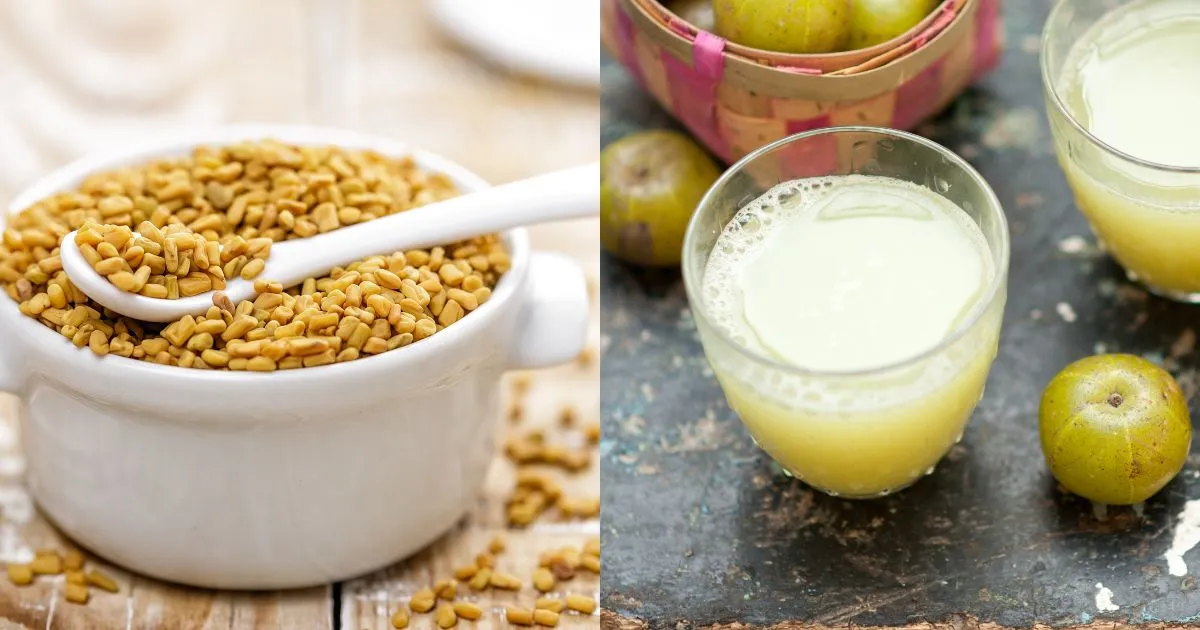 Soak 3-4 tablespoons of fenugreek powder and leave it overnight.

Next morning, blend the soaked fenugreek seeds with 1-2 tablespoons of amla or gooseberry juice. 

Mix it well in the paste and apply it to the hair and scalp.

Leave the paste for about an hour before rinsing it with a mild shampoo.
Allow this process once a week or at least twice a month.
7. Fenugreek Pack Reduces Inflammation Of The Scalp: 
Fenugreek contains powerful anti-inflammatory properties that help to relieve pain and inflammation in your hair roots. Additionally, it has natural antioxidants, which help in the battle against oxidative stress caused by free radicals in the cells of your hair follicles.
Fenugreek hence helps in boosting better hair development and strengthening hair roots.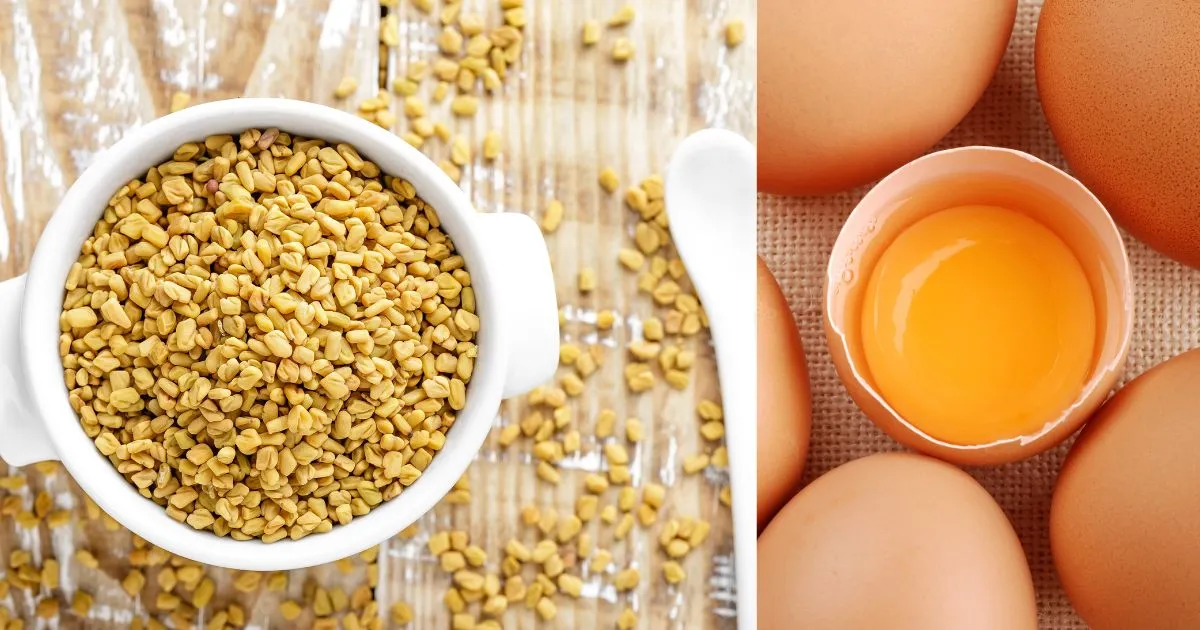 Soak 3-4 tablespoons of fenugreek powder and leave it overnight.

Next morning, blend the soaked fenugreek seeds with egg yolk and apply to your hair for 30 to 40 minutes.
 Rinse with lukewarm water, or use a gentle shampoo.
8. Fenugreek Use As A Hair Conditioning:
Fenugreek has anti-oxidant properties; It will work like a magic wand for hair conditioning.
Thus, it would be best if you switched your normal condition to fenugreek paste, making them as soft as silk and frizz-free hair.
To fulfill this purpose, here are the steps to prepare a pack for the hair conditioner;
Soak 10-15 gm of fenugreek seeds in water and leave it overnight.

 Make a thin paste of fenugreek by grinding and adding two tablespoons of olive oil.
Let sit this paste on your hair before washing it for at least 30 minutes. You can wash your hair with the help of mild shampoo.
 9. Fenugreek Use As A Tea Rinse: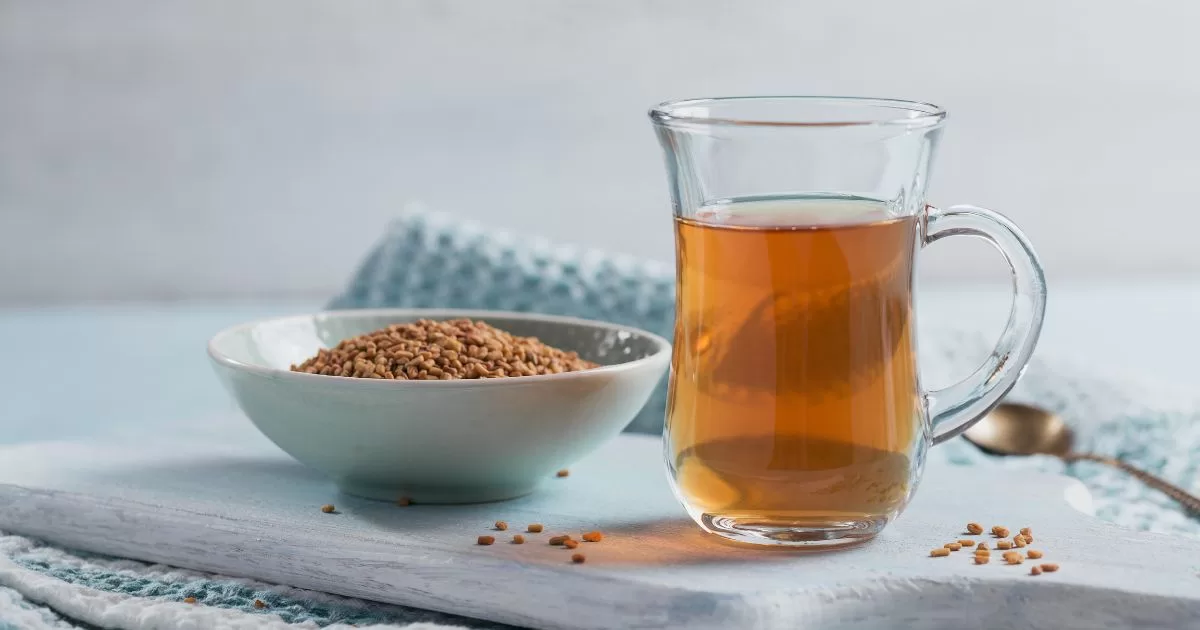 You can soak three teaspoons of fenugreek seeds in one cup of hot water for at least ten minutes to use as a tea rinse.

Strain the liquid and transfer it to a spray bottle.

After washing your hair, spray the fenugreek tea rinse along the length of your hair and let it remain for at least 10- 15 minutes.

In the end, wash your hair as usual after rinsing the fenugreek water out of it and continuing to condition it deeply.
How do you eat fenugreek seeds for hair growth?
Fenugreek can consume in the following ways to promote hair growth:
1. Raw Fenugreek Seeds:
You can use a pinch of raw fenugreek seeds as a tempering ingredient in your regular meal, such as lentil soups, curries, etc.
2. Steep Fenugreek Water:
You can use a teaspoon of fenugreek powder or seeds in one glass of hot water, let it to steep for 5 to 10 minutes, and then drink it as an early-morning beverage.
3. Fenugreek Seeds That Have Sprouted:
Fenugreek seeds that have sprouted can add daily to your salads. Fenugreek seeds grow in approximately three days, and you may keep the sprouts for a week in the refrigerator.
4. Roasted Fenugreek Seeds/ Powder: 
Fenugreek seeds should be dry-roasted for 5 to 10 minutes over medium heat. Then make toasted seeds into a powder and keep it in an airtight container. You can add it to your curry for taste, take it daily with water, or make a granola bar for its health benefits.
Learn More-Click Here– If You Have Vitamin Deficiency Hair Loss
Keep In Mind:
The following are some Risks associated with fenugreek use:
Headaches

Dizziness

‌Nausea

Diarrhea

Other digestive issues
You may have a quick drop in blood sugar if you take a significant quantity of fenugreek. Fenugreek, alone or in combination with other herbs, may harm your liver. 
If you are pregnant, avoid using fenugreek; it is only safe to consume trace amounts in meals. You are using fenugreek when pregnant increases the risk of congenital disabilities.
Bottom Line:
We understand that you may have used over-the-counter treatments to treat your underlying hair concerns. However, using chemicals on your hair might cause more harm than benefit and waste money.
As previously indicated, treating your hair with fenugreek seeds once a week will help you eliminate your hair issues. So, start loving your hair now, take care of it, and you will see positive effects.
Click Here– Hair Loss Prevention: 20 Simple ways to Treat Your Hair Loss
Frequently Ask Questions:
1. Can fenugreek make hair thicker?
Fenugreek has been used in traditional medicine for hair thinning and loss for centuries. A few studies suggest that fenugreek seed extract effectively increases hair growth. However, more research is needed — mainly since some studies used a remedy consisting of multiple herbs. Additionally, consuming a balanced diet rich in essential nutrients and reducing stress may help improve hair health.
2. Can we use fenugreek seeds for hair daily?
Yes, fenugreek seeds can be used regularly for hair. However, for the best outcome, you should use them in moderation. Research shows that a 300-mg daily oral dosage of fenugreek seed extract may be helpful.
 You can also apply fenugreek hair oil and paste to your scalp and hair to increase hair growth. Additionally, eating a balanced diet rich in essential nutrients and reducing stress may help improve hair health.
3. Can I leave fenugreek water on the hair overnight?
Yes, fenugreek water may be left on your hair overnight. To prepare fenugreek water for hair washing:
Soak two teaspoons of fenugreek seeds in 250 ml of water overnight.

Strain the mixture and apply it to your scalp and hair.

Leave it on overnight and rinse with a light wash in the morning. You can also use fenugreek powder to produce a hair mask by combining it with olive oil and applying it to your scalp and hair.
4. What can I mix with fenugreek for hair growth?
To make a hair mask, combine fenugreek powder with other ingredients. Combine the powder with coconut oil, olive oil, yogurt, or lemon juice. You may also combine fenugreek powder with other herbs like rosemary, lavender, amla, or gooseberry to boost the efficacy of the hair mask. 
5. How long should you soak fenugreek seeds for hair?
I know this process is time-consuming and messy. Ideally, it is recommended to soak fenugreek seeds for at least 6-7 hours to make a hair rinse. You can soak the fenugreek seeds in hot water for 5-10 minutes or soak them overnight for better results. Strain the mixture and apply it to your scalp and hair. Leave it on for 5-10 minutes, and then rinse it off with normal water. You can also make a hair mask by blending the softened seeds into a paste.
6. How long does it take for fenugreek to work on hair growth?
It may take several weeks for fenugreek to show results for hair growth. However, results may vary depending on the person's hair growth cycle. Some people have reported seeing an improvement in their hair growth within two and a half months of using fenugreek.